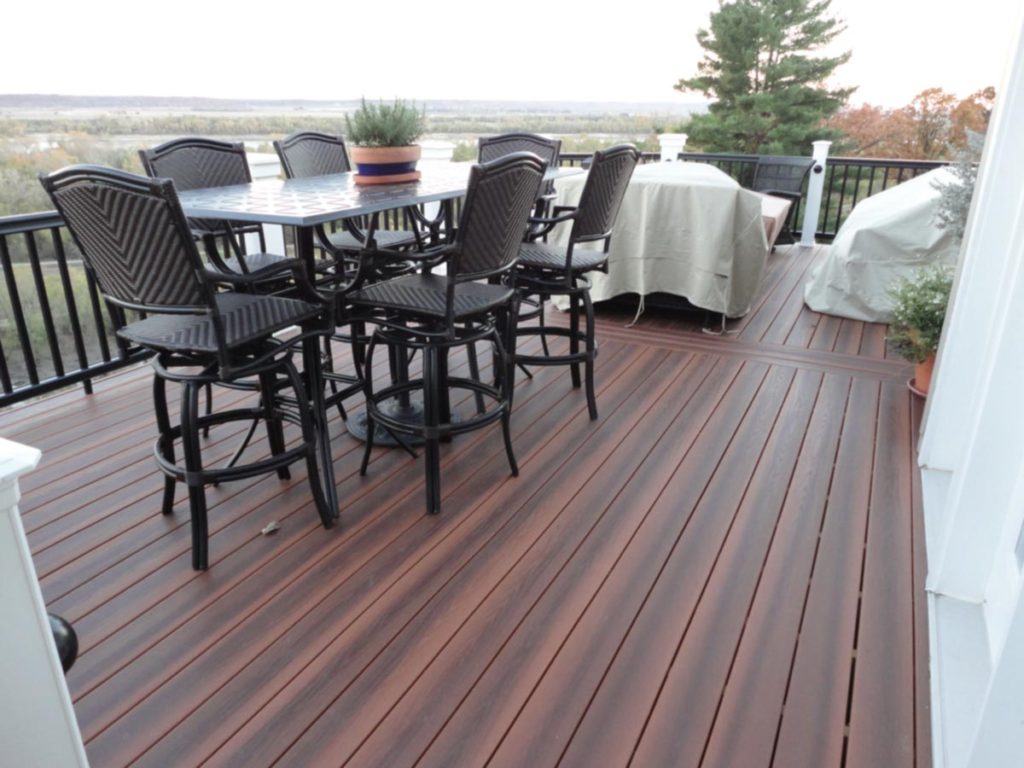 Artistic Decks is the go-to building company when getting ready to build a beautiful deck onto your St. Louis home.
We start by helping you craft the perfect design and then construct that with precision attention to detail and the highest quality decking materials available on the market.
After the plans are complete it is time to choose the material that will be the base for the deck that you have been dreaming of. At Artistic Decks, we have the professional expertise to help you pick from the many materials available to you.
PVC Decking Material
With the harsh winters that St. Louis homes endure, an increasing number of homeowners are looking at PVC materials to turn their dream deck into a reality. Containing absolutely no organic compounds, PVC decking material provides longevity that out surpasses all others.
PVC decking materials are constructed using 100% durable plastic. This makes extremely low maintenance. By being both stain and fade resistant, the surface of a PVC deck only needs to be cleaned with soap and water in order to maintain that same look like the day it was installed.
Raw, PVC does not resemble real wood, but once you add the color and texture of your choice, you can have a tranquil outdoor space that gives the impression of real wood without the drawbacks. This allows for a deck space that coordinates perfectly with the existing exterior of your home while not having to worry about damage from the elements.
PVC Decking Material Maintenance
With PVC as your deck base, it is easy to keep it looking brand new. There are no treatments to apply and it will not fade with time. You can keep it clean by brushing soap and water onto its surface or even with a pressure washer. The first sign of warm weather and your deck is ready to hang out on.
Other Benefits of PVC Decking Planks
If you are building other outside construction projects think about PVC. You can build a variety of beautiful elements for your property with this sturdy material like gazebos, pool decks, and patios. Being available in an assortment of colors you can have the ideal structure built to complement your home.
When picking out your PVC decking materials, the professionals at Artistic Decks will ensure that is of the highest quality. This includes looking for products that allow for installation without any unsightly fasteners.
You have made a big decision to have a lovely element to your house added on. This spot will become a favorite for your family to hang out, barbecue and entertain. Make sure that it is constructed with precision and strength by having the expertise of the Artistic Decks team take on the job. Your finished product will be the perfectly crafted deck that you and your family have been waiting for.
Call us today at (314) 280-0821!