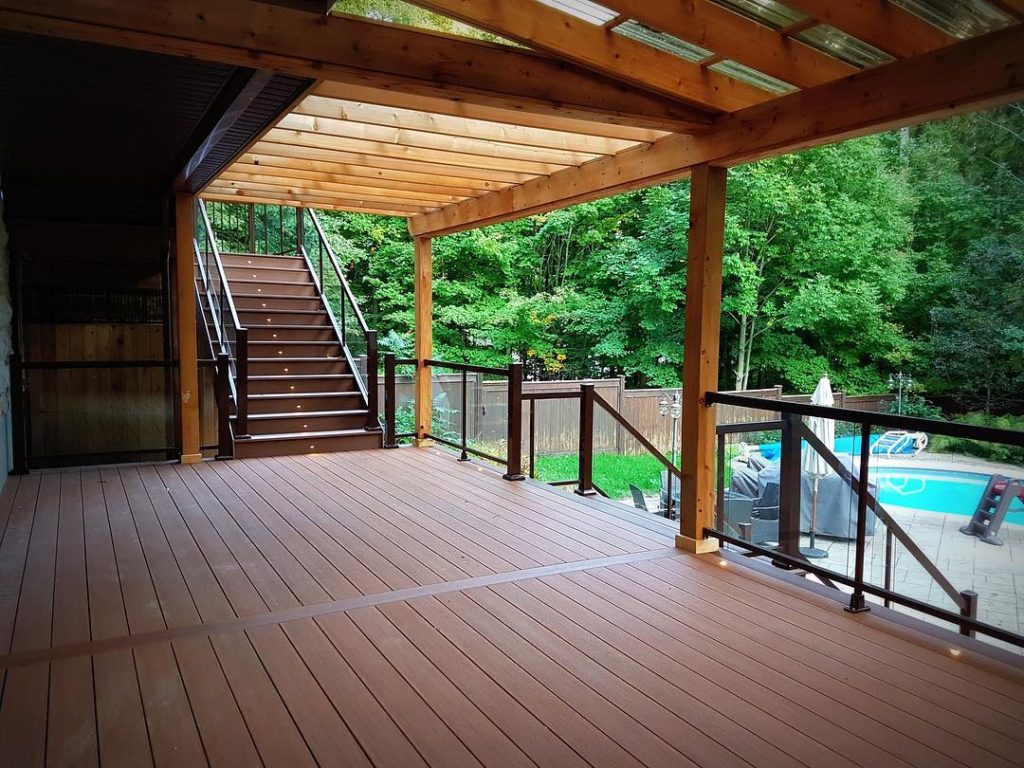 When you choose composite deck you get a product that is resistant to wear and tear and stains.
When making the decision to add more space to your home with an outdoor deck, look no further than the experts at Artistic Decks. With our innovative design ideas, unsurpassed craftsmanship, and refusal to work with anything but the absolute best materials, your finished product will add functional beauty to the exterior of your house.
With a customized deck plan in place, your next move is to choose the decking material that best meets your lifestyle. No longer limited to natural wood products, you now have the choice of a low maintenance composite deck.
Composite Decking Material
A composite material is a combination of wood by-products and recycled plastic products. When you choose a composite deck you get a product that is resistant to wear and tear and stains. It also does not warp, rot, split or splinter. This makes for a deck that is virtually maintenance free. Other than washing it down on occasion, your outdoor deck is always ready for a barbecue.
Over the years, composite decking has improved in both realistic wood look and color availability. This allows you to create a natural looking deck in a color choice that blends perfectly with the exterior of your house. Even better, there is now fade-resistant composite decking for those areas which may get over-exposure to the sun.
With wood grain patterns molded into the surface, composite decking can give you the best of both worlds: a deck that is completely resistant to the elements it is exposed to, with the look of natural wood that homeowners crave.
Other Benefits of Composite Decking Materials
St. Louis homeowners who choose Artistic Decks are also impressed with the added safety benefits of composite decking materials. Being slip resistant and free from splinters, parents with small children, in particular, are interested in building with composite materials. There are also a number of coordinating accessories that can complete the look of your deck. These include hand rails, gates, post caps, and railing to tie the entire look of your deck together.
Composite deck materials are ideal for any of your outdoor projects. Home owners in St. Louis have used these durable planks to create front porches and gazebos. It is an especially coveted option when installing a deck around a pool area for its slip-resistant surface. With such a wide range of uses, Artistic Decks is finding this to be a popular choice among their St. Louis clients.
St. Louis Composite Decks
If you do decide that composite deck materials are the right choice for your building project, the experts at Artistic Decks will make sure that you are selecting the highest quality products available on the market. This includes checking that recycled materials were used in its construction to make it environmentally friendly.
Let Artistic Decks craft the ideal summertime spot for your home. With our knowledge of creating a plan that suits your home to a T, combined with our master craftsmanship and insistence on only materials of the highest quality, you will get an architecturally superior finished deck. Call us now and begin taking steps towards building the deck of your dreams!
Call us today at (314) 280-0821 !